Your HA Virtual Branch: new lecture programme
Keep learning with our online programme of talks
Published: 8th May 2020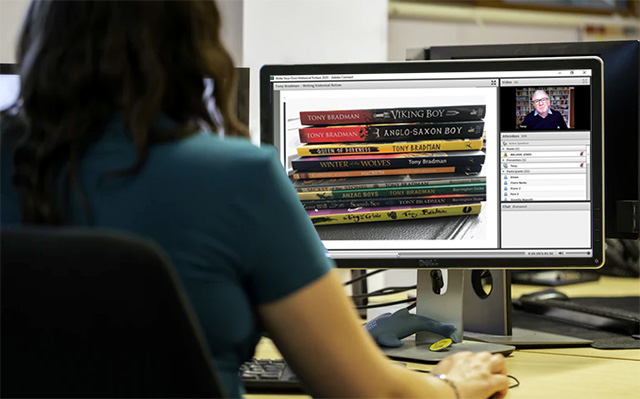 Historian Live lecture series
The Virtual Branch was introduced at the start of lockdown to make sure everyone could still be in touch with quality historical lectures. As we move out of lockdown the virtual branch will remain open as a part of the HA delivery for full reach and inclusion. We will continue to bring you webinars that you can dip in at any time as well as articles and podcasts.
As part of a new summer and autumn programme, we are delighted to launch the first in a series of free digital lectures with some of the UK's best historians as part of the HA virtual branch. Places for the live lectures are freely available to all, and recordings will be made available to HA members on our website after the event.
Forthcoming lectures include Janina Ramirez speaking on the subject of goddesses on 20 July, and Jo Fox on 'Reimagining the Blitz Spirit: the mobilisation of World War II propaganda in our own times' on 30 July.
In the meantime, you can continue to enjoy the selection of other talks already available through the virtual branch as shown below.


About the HA Virtual Branch talks
Your HA virtual branch is open to all – whether you are a member or not; for general interest, teachers and students alike. Some of the talks are pre-recorded, and others allow you the opportunity to listen live and pitch your questions to the historian presenting. The programme below will be updated as new talks are agreed, and as each talk goes live in each fortnightly period.
If you're a teacher don't forget that we will also continue to run our regular calendar of CPD webinars - you can view the full calendar here.
This week's virtual branch talk: The Spanish Civil War
Over the next two weeks our pre-recorded virtual branch talk comes from Dr David Brydan, who discusses the Spanish Civil War and Franco's Spain. This talk will be available until 24 July at the following link:
https://bit.ly/spanishcivilwardb
To access the recording of the talk, click on the link above and it will open in a new window. Please note that you will need to download the Adobe Connect application to view the recording. We recommend you view on a desktop or laptop for best results.
Virtual branch programme of talks
| | | | |
| --- | --- | --- | --- |
| Date | Title | Presenter | Pre-recorded or live? |
| Week beginning 15 June–12 July | The Kingdom of Benin | Dr Toby Green | Pre-recorded |
| 9 July | The Making of Early England | Michael Wood | Live |
| Week beginning 13 July–24 July | The Spanish Civil War | Dr David Brydan | Pre-recorded |
| 20 July | Goddesses | Janina Ramirez | |
| 30 July | Reimagining the Blitz Spirit: the mobilisation of World War II propaganda in our own times | Jo Fox | |
Join our fortnightly history book club on Twitter
HA book club will explore opinions on some of the more famous history texts that many of us have used / studied with / pretended to read, along with some works of historical fiction. The club will have an hour of live discussion time every other Wednesday on Twitter @histassoc.