Your HA Virtual Branch
Keep learning with our online programme of talks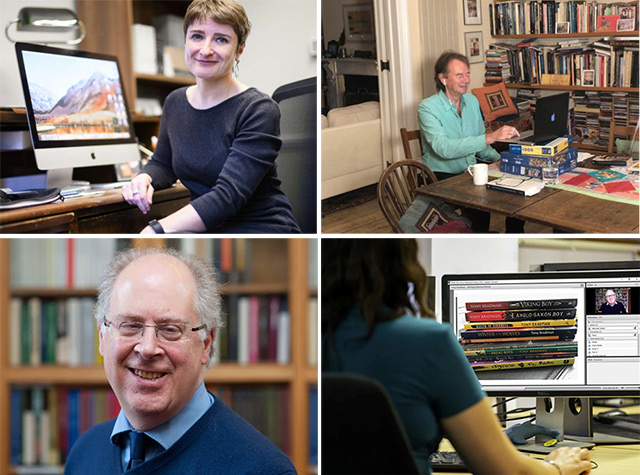 Your branch from home
The HA Virtual Branch is a great way to keep your history up-to-date, whether you are working or relaxing, all from the comfort of your home. The branch is available to everybody, and recordings of the talks are made available online after the event for HA members.
Upcoming talks
*LIVE - Wednesday 8 December, 7.30pm
What a strange place to be buried: Unique burial locations in London, c. 1600-1800
Anna Cusack joins us this December to discuss unique burial locations in London. Anna recently completed a PhD at Birkbeck, University of London on the marginal dead of seventeenth and eighteenth-century London, focusing specifically on suicides, executed criminals, Quakers, and Jews and the treatment of their bodily remains after death. Her research was recently featured in The Times and she is part of the Placecloud project which records mini podcasts about specific places across London and indeed England. Anna co-edits the blog We Hang Out a Lot in Cemeteries and continues to work on the histories of marginalised individuals and the dead.
*LIVE - Wednesday 27 April 2022, 7.30pm
Dartington Hall: Building Utopia in Devon After the First World War
Dartington Hall was a social and educational experiment set up in Devon in 1925. In this talk Anna Neima will explore the early decades of this far-reaching community in the West Country and its place within the wider context of international interwar reform.
Anna Neima is a Leverhulme Early Career Fellow at the University of Warwick. Before this, she completed her PhD at the University of Cambridge. She is the author of two books. The Utopians: Six Attempts to Build the Perfect Society (2021) tells the story of the experimental communities that sprang up around the globe in the aftermath of the First World War: Santiniketan-Sriniketan in India, Dartington Hall in England, Atarashiki Mura in Japan, the Institute for the Harmonious Development of Man in France, the Bruderhof in Germany and Trabuco College in America. Her most recent book is Practical Utopias: The Many Lives of Dartington Hall (2022). Anna's grandfather began a small-scale eco-commune in Devon after he retired from farming and, ever since witnessing this developing in her childhood, she has been fascinated by people who try to turn their ideals into a practical example that they hope will influence others.


*LIVE - Rescheduled date tbc
The Secret Horsepower Race: Western Front fighter engine development
Calum E. Douglas will join us in conversation about his book The Secret Horse Power Race about World War 2 aviation engine development in Europe. His book explores the fight to be the best engineers during wartime and how that was crucial to winning the technology battle that could help to dominate the skies. Following six years of research and writing, the book has been a huge success amongst those with an interest in aviation and technological history, military historians and anyone keen to know how the conflicts of the twentieth century have made huge differences to all our lives. In this talk we will discuss the writing of the book and some of the key themes that it addresses.
Calum E Douglas is a trained mechanical engineer specialising in piston engine design and development who is just as interested in how technology developed and impacted on history as he is in the machines themselves.
Booking coming soon
Past lecture recordings
If you missed our Virtual Branch talks from earlier this year, recordings of a number of the talks are available here:
Local HA Branches at the Virtual Branch
The HA has over 45 local branches around the country. Some of these have been able to return to their venues for their monthly talks around lockdown. Others have decided to make their branch programmes online via Zoom – this provides a wonderful opportunity for you to see some of the great lectures that occur across the country as part of the HA. Check our branch calendar for full listings.
About the HA Virtual Branch talks
Your HA virtual branch is open to all – whether you are a member or not; for general interest, teachers and students alike. Some of the talks are pre-recorded, and others allow you the opportunity to listen live and pitch your questions to the historian presenting. This page will be updated as new talks are agreed.
If you're a teacher don't forget that we will also continue to run our regular calendar of CPD webinars - view the secondary webinar calendar here and the primary calendar here.