Diversity and Sensitive / Controversial Issues
Useful articles in 'Primary History'
Each section of this unit begins by highlighting articles based on the current National Curriculum, and is followed by earlier pieces that are still worth reading. Please note that while the core advice is still relevant, articles from editions published prior to Primary History 66 will be based on the old National Curriculum.

1. Managing/organising Diversity
2. Managing and organising Sensitive and Controversial issues
3. Specific content Diversity
4. Specific content Sensitive and Controversial issues

1. Managing/Organising Diversity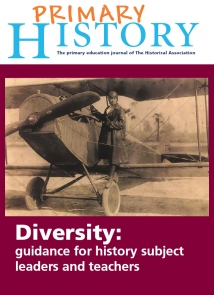 Primary History Summer Resource 2019. Focus on Diversity by Karin Doull and Paul Bracey - covering issues such as what is diversity? National identity, coverage, criteria, examples, transition to KS3. Separate sections on Key Stage 1 (examples such as shopping, hospitals, holidays, significant individuals, local history, suffragettes) and Key Stage 2 covering issues such as migration, trade, female power and achievement, black soldiers and local history). Extensive bibliography.
Alison Gove Humphries, Paul Bracey and Darius Jackson, "Why is diversity so important? How can we approach it?" PH 75, spring 2017.
Also: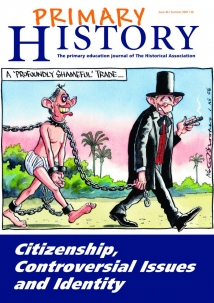 2. Managing/Organising Sensitive and Controversial Issues
Also:
James Hennessey, "Engaging with controversial issues through drama", PH 46, summer 2007.
Hilary Claire, "History, Citizenship and Controversy", PH 46, summer 2007.
Helena Gillespie, "Teaching Controversial Issues 8-11" PH 46, summer 2007. Based on HA TEACH report.
Dean Smart, "Citizenship, Controversial Issues and Identity in the Transition Year", PH 46, summer 2007
3. Specific Content Diversity
Also:
4. Specific Content: Sensitive and Controversial Issues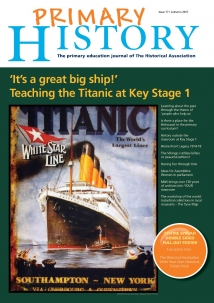 Also:
Anita Parmar, "As a primary school teacher have you taught about the Holocaust", PH 42. Spring 2006.
Anna Salaman, "Teaching about the Transatlantic Slave Trade and Emancipation", PH 46, summer 2007.
David Rosenberg, "Teaching about racism, fairness and justice through key people", PH 46, summer 2007
Diane Rougie, "I could change the world if I put my mind to it! Teaching controversial issues and citizenship through a project on heroes and heroines", PH 46, summer 2007.
Mike Mitchell, "History, Citizenship and National Identity: The Katyn Massacre" PH 57, spring 2011.
Amy Robson and Kelly Hogg, "Racism and Equality through the 1936 Berlin Olympics: The Olympics, Nationalism and Identity" PH 58, summer 2011.
Kamai Bhana, "Is teaching about the Holocaust suitable for primary aged children?" PH 61, summer 2012.
Jane Card, "Slavery in Britain and the portrait of Dido Belle and Lady Elizabeth Murray" PH 65, autumn 2013.
Carole Turner, "The journey: World War II evacuees and Kindertransport – working with the Holocaust Centre" PH 65, autumn 2013