Your HA Virtual Branch: new lectures
Keep learning with our online programme of talks
Published: 31st August 2020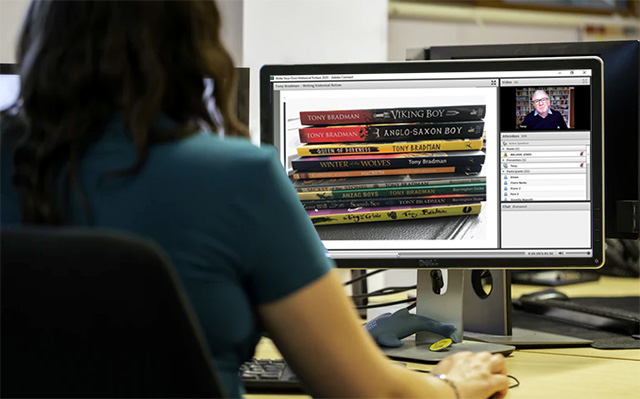 Presidents Season
Our Virtual Branch continues this autumn. Visit this page regularly to see new events and talks coming up.
We have two new live Virtual Branch talks this October as part of our Presidents season. The subjects of the talks themselves have nothing to do with anything presidential, but to tie in with the US Presidential election – and just because they are great speakers – we have asked a current and a former HA President to talk for the Virtual Branch.
7 October at 19.30: current HA president Professor Peter Mandler will be talking on The Origins of Mass Society: Speech, Sex and Drink in Urbanising Britain, 1780-1870.
Peter served a four-year term as President of the Royal Historical Society from 2012 to 2016. He is a Fellow of the British Academy and of the American Academy of Arts and Sciences. His latest book The Crisis of the Meritocracy: Britain's Transition to Mass Education since the Second World War will be published in 2020 by Oxford University Press.
Recording available soon for HA members
21 October at 19.30: Professor Anne Curry will be speaking on Henry V - Henry the Conqueror.
Anne is an Emeritus Professor of history at Southampton. She was president of the HA (2006–2009) Vice-President of the Royal Historical Society, and Dean of the Faculty of Humanities at the University of Southampton (2010–2018). She is a Trustee of the Royal Armouries and a member of the General Committee of the British Commission on Military History. She has also been elected Chair of The Battlefields Trust, and Renter Warden of the Worshipful Company of Fletchers.
To finish up our Presidents season we will be showing the final Presidential lecture by Professor Tony Badger which he is giving as part of the HA Virtual Conference this November, free for one day only on Friday 20 November, after which it will return to the paywall. His talk is Alger Hiss, Friend and/or Spy.
Local HA Branches at the Virtual Branch
The HA has over 45 local branches around the country. Some of these have been able to return to their venues for their monthly talks. Others have decided to make their branch programmes online via Zoom – this provides a wonderful opportunity for you to see some of the great lectures that occur across the country as part of the HA. We will be featuring some of those Zoom lectures delivered by the branches here. Check in regularly for further information or view our branch calendar for full listings.
About the HA Virtual Branch talks
Your HA virtual branch is open to all – whether you are a member or not; for general interest, teachers and students alike. Some of the talks are pre-recorded, and others allow you the opportunity to listen live and pitch your questions to the historian presenting. The programme below will be updated as new talks are agreed.
If you're a teacher don't forget that we will also continue to run our regular calendar of CPD webinars - you can view the full calendar here.
Virtual branch programme
| | | | |
| --- | --- | --- | --- |
| Date | Title | Presenter | Pre-recorded or live? |
| 9 July | The Making of Early England | Michael Wood | |
| 30 July | Reimagining the Blitz Spirit: the mobilisation of World War II propaganda in our own times | Jo Fox | |
| 7 October, 19.30 | The Origins of Mass Society: Speech, Sex and Drink in Urbanising Britain, 1780-1870 | Prof Peter Mandler (HA president) | Recording coming soon |
| 21 October, 19.30 | Henry V - Henry the Conqueror | Prof Anne Curry | |
| 20 November | Alger Hiss, Friend and/or Spy? | Prof Tony Badger | Pre-recorded |